Related Pages
Credit: Christophe Marcadé
Credit: Christophe Marcadé
Credit: Christophe Marcadé
Credit: Christophe Marcadé
Credit: Christophe Marcadé
Credit: Christophe Marcadé
Credit: Christophe Marcadé
Credit: Christophe Marcadé
Credit: Christophe Marcadé
Credit: Christophe Marcadé
Credit: Christophe Marcadé
Credit: Christophe Marcadé
Credit: Christophe Marcadé
Credit: Christophe Marcadé
Credit: Christophe Marcadé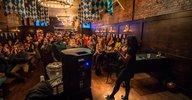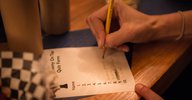 Astronomy on Tap is a global phenomenon where professional astronomers give informal science talks in local bars with accompanying pub trivia and interactions with the public. Scientists at Caltech organize the Los Angeles chapter of Astronomy on Tap hosting speakers from many LA-based institutions: Carnegie Observatories, The Planetary Society, the Jet Propulsion Laboratory, UCLA, Griffith Observatory, and more.
Each event consists of two 20-minute talks on some aspect of astronomy/astrophysics with broad appeal. We answer questions from the audience after each talk, host astronomically-themed pub trivia with cool prizes, and have professional astronomers on hand to discuss space science with interested audience members. When conditions permit, we also provide guided stargazing with telescopes. In addition, we oftentimes are accompanied by local rock legends, Jason Achilles and Forrest Mitchell, who play rock music in between talks.
During COVID, we began hosting virtual Astronomy on Tap conducted entirely online in: English, Spanish, and Mandarin Chinese. While our main focus is now back to in-person events, we anticipate continuing to offer these virtual and multilingual sessions semi-regularly moving forward, keep an eye on our YouTube Channel and Upcoming Events page.
Our in-person Astronomy on Tap events take place monthly at the Dog Haus Biergarten in Old Town Pasadena, where we are on the back patio and totally outdoors. These two-hour sessions occur one Monday a month at 7:30 PM PT. As with all of our activities, Astronomy on Tap is entirely free and open to all. No reservations are necessary--just show up and stay for as long as you want. Food and beverages are available for purchase at happy hour prices throughout our Astronomy on Tap event, and all ages are welcome. Check out our Upcoming Events and Directions pages, and consider following us on social media for announcements on upcoming events--we hope to see you there!

Astronomy on Tap events are oftentimes photographed and recorded. See our Past Astronomy on Tap events for a full listing of our previous speakers and presentations wthi links to photo and video when available.

Approximate Schedule

7:30PM PT -- Talk #1
8:15PM PT -- Talk #2
9:00PM PT -- Pub Trivia Answers and Prizes
9:30PM PT -- End of Event
Connect With Us
Follow us for Caltech Astro Outreach upcoming events and past recordings!