Related Pages
Credit: Christophe Marcadé
Credit: Christophe Marcadé
Credit: Christophe Marcadé
Credit: Christophe Marcadé
Credit: Christophe Marcadé
Credit: Christophe Marcadé
Credit: Christophe Marcadé
Credit: Christophe Marcadé
Credit: Christophe Marcadé
Credit: Christophe Marcadé
Credit: Christophe Marcadé
Credit: Christophe Marcadé
Credit: Christophe Marcadé
Credit: Christophe Marcadé
Credit: Christophe Marcadé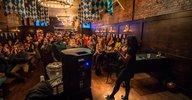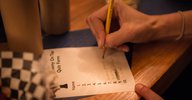 Astronomy on Tap is a nation-wide phenomenon where professional astronomers give informal science talks in local bars with accompanying pub trivia and interactions with the public. Scientists at Caltech organize the Los Angeles chapter of Astronomy on Tap hosting speakers from many LA-based institutions: Carnegie Observatories, The Planetary Society, the Jet Propulsion Laboratory, UCLA, Griffith Observatory, and more.
Each event consists of two 10-15 minute talks on some aspect of astronomy/astrophysics with broad appeal. We answer questions from the audience after each talk, and then host astronomically-themed pub trivia with plenty of interaction with the audience.
Since the COVID pandemic began, we have moved these events from the bar to YouTube Live, hosting these two-hour sessions one Monday a month at 7:30 PM PDT. In an effort to reach a larger audience, in Spring 2021 we began hosting virtual Astronomy on Tap events conducted entirely in Spanish and in Mandarin Chinese. We anticipate continuing to offer these events once every 3 months moving forward.
We are hopeful to return to our host bar in Old Town Pasadena, Der Wolfskopf, as soon as it is safe to do so. Until then, we invite you to join us virtually for an evening of science and fun on our Caltech Astro YouTube Channel. Beer optional.

Approximate Schedule

7:30PM PDT -- Talk #1
8:00PM PDT -- Talk #2
8:30PM PDT -- Pub Trivia
9:30PM PDT -- End of Event